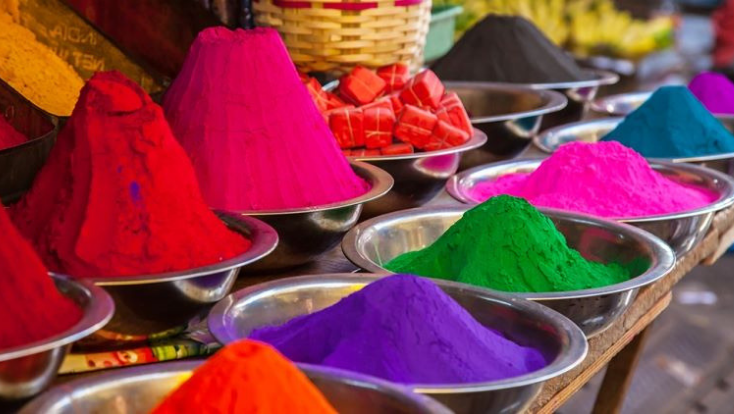 Holi is correctly termed as the festival of colours; celebrated posthumously all over India it is one of the biggest attraction for people from all over the world. A colour festival! How wonderful does it sound! How magical it might be, to celebrate the beauty of colours!
India is a country extremely rich for its social and cultural heritage, brimming with multitudes of rituals and customs, and Holi is one among the various gems of India. Holi celebration in India is the customary summons of the spring season, which also signifies new life and vigour. It celebrates the joy of having new colours, happiness, prosperity, and fertility in life. It is believed that after the bitter harshness of the winters, mother Earth rises to the occasion and nurtures us with all the warmth and tenderness.
When Does It Occur?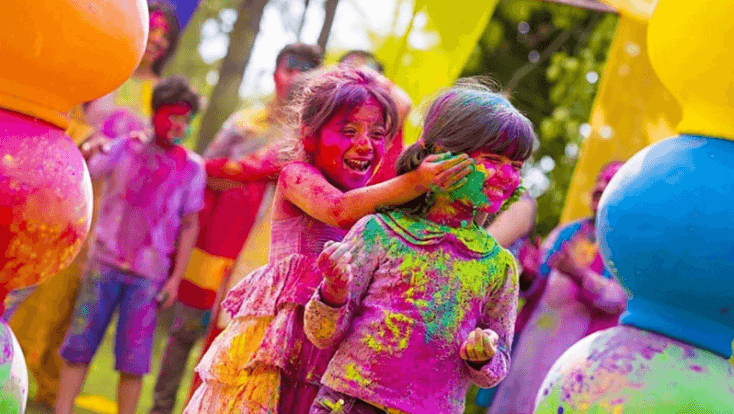 The Holi festival in India does not necessarily follow a fixed date every year, but it is celebrated at the start of spring around mid-March every year, on the full moon day or Puranmashi in the Bengali month of Phagun.
Holi festival 2019 is going to be held on the 20th and 21st of March, which is the official holi date and is celebrated almost around the same time in every state of the country.
The History Behind It…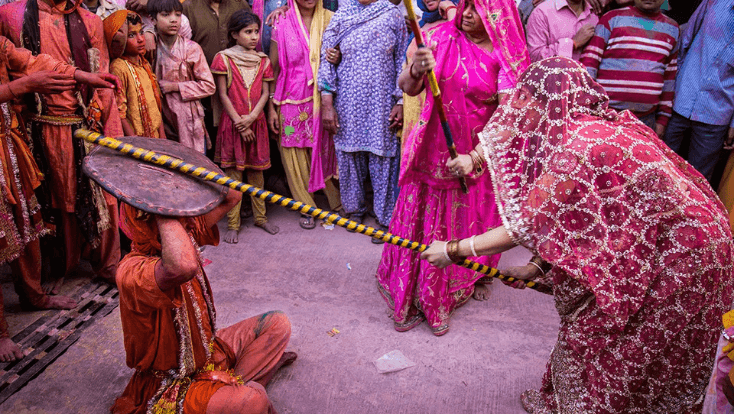 The festival of colors dates back to several centuries and finds its mention in almost all the scriptures alike. From the walls of old temples of Hindu mythology (the temple at Hampi) and other sculptures and paintings of the 16th century to ancient Vedas and Puranas, we find Holikotsav mentioned everywhere. Murals depicting a Mewar king and Queen on swings amidst flying colours and other festivities, which dated back to 1755 have been discovered.
Al Baruni the Muslim traveller has also mentioned the Holi celebration in many of his historical travelogues, and we find even Muslims celebrating Holi with unparalleled glee. Thus the Indian colour festival truly is the mascot for the unified nation that India is, and the Holi festival 2019 will be no different.
What Mythology Says…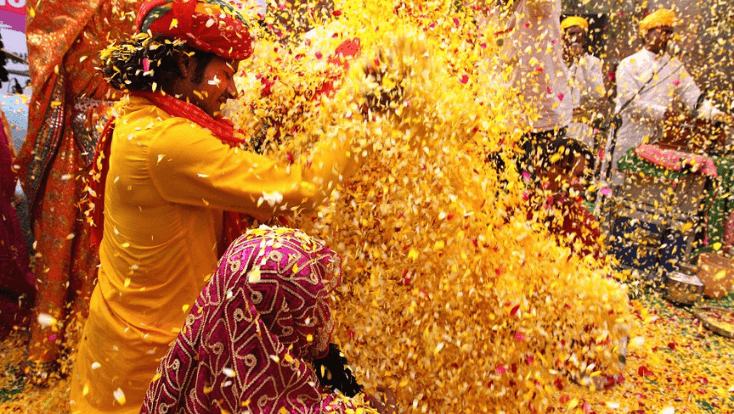 Legend has it that the devil king Hiranyakashipu hated Lord Vishnu with all his might and wanted the people of his kingdom to worship him alone. But to his utter dismay his son, Prahlad turned out to be an ardent devotee of the lord and did not pay much heed to Hiranyakashipu. To teach him a lesson the tyrant then decided to let his sister Holika, who had a boon of entering any fire without damaging herself, to sit on a pyre with Prahlad on her lap. They assumed this would eventually kill of Prahlad, but to everybody's disbelief the boon of Holika only worked when she entered a fire alone, and not otherwise. Her evil intentions made her pay the greatest price while little Prahlad was saved and was rewarded for his goodness and also his devotion. Every year on the day before Holi, burning of an effigy of Holika (a randomly made pyre) has become the tradition. It is actually considered auspicious and is supposed to be burnt at a specific Mahurat.
Sri Chaitanya Mahaprabhu is also said to be born on the day of Dol (Holi) Purnima and is widely celebrated through all parts of Orissa and Bengal.
Lord Krishna also had a legend of playing with colours on Holi, at his homeland Mathura. He is known to have started this tradition of playing with gulal (or colors) with his Gopis and gradually this tradition gained popularity and people began celebrating Holi festival by applying colours on each other and celebrating with music and dances.
The Festivities…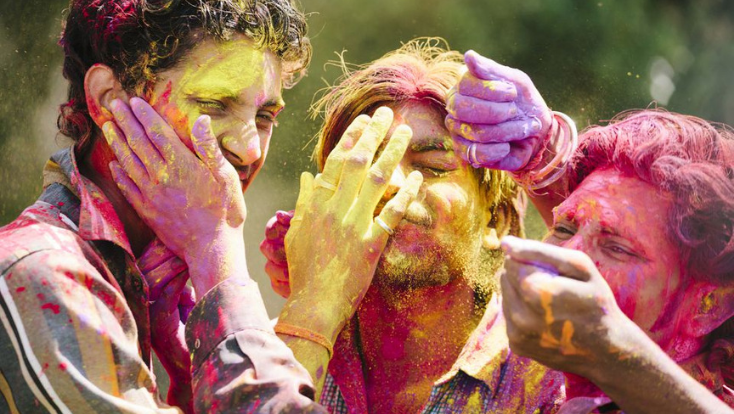 People all over have various traditions and customaries regarding Holi celebration, but the happiness and prosperity are contagious. The air is almost full of Holi colours or abeer, people smear each other in abeer and also pour buckets filled with watercolors of various shades on each other. Pichkaris or syringes filled with watercolors are used to get others at a distance. Sweets are served, laddoos, mithai, and a special item known as Bhang mixed in sherbets called thandai is an intoxicating drink. It is actually Cannabis, which is consumed by people on this day and has become a part of the festivities. The sight of people playing with colours and laughing and giggling away their sorrows and grief, chanting Happy Holi is refreshing in itself. The people almost wait for a year looking forward to the Holi festival, and this is how life is, for the Indian people.
Holi celebrations in Jaipur are a blast. The Pink city known for its vibrancy welcomes spring with open arms and a colourful face!
Safety Tips To Celebrate Holi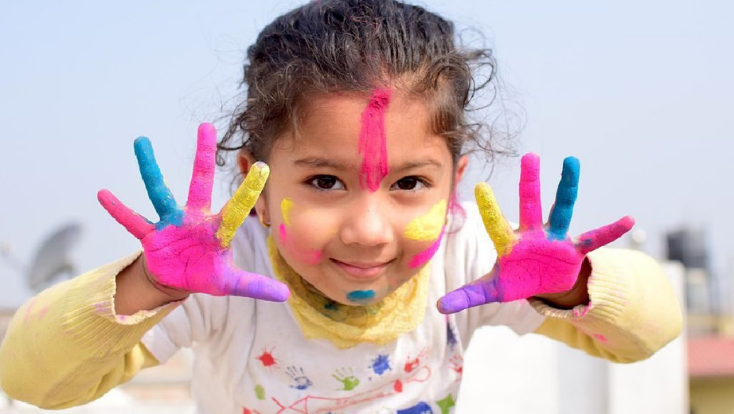 If you've planned to have a blast on Holi celebration in India in the coming spring, you better be armed, to maximize all the fun and merriment, with absolutely no regrets. The street fun can be very rowdy and a bit strong for your taste. So make sure you are properly aware of all the norms and are not dragged into any unforeseen circumstances unknowingly.
Steer clear of large unknown gatherings. Take a few friends along who can have your back when need be.
Do not accept Bhang or any other drink from strangers. It might be a difficult feat at times of merriment, but always make sure you are in a trustworthy company.
Do not have valuables on you. Leave your wallet or camera and other such items in safe places, and cover the camera lenses in case you have to keep them with you.
Wear old clothes, one those you can discard off later and do not have to reuse.
Try to stay away from harsh chemicals, protect your eyes by wearing cool goggles and using natural colours.
Pre-apply oil on your skin and hair for efficient removal of the colours later.
Avoid eating a lot of outside food which might be contaminated by colours and chemicals.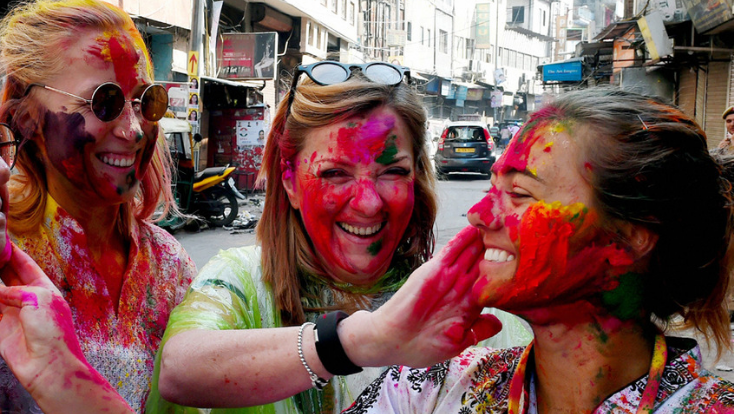 Conclusion: Several options for travelling to India during this festival are available on best travel apps, which also provide the best travel tips and a complete guide to a Holi festival in India. So, why wait any more!. Grab the first opportunity to celebrate the grand Holi festival 2019.
Several options for travelling to India during this festival are available on best travel apps, which also provide the best travel tips and a complete guide to a Holi festival in India. So, why wait any more!. Grab the first opportunity to celebrate the grand Holi festival 2019.