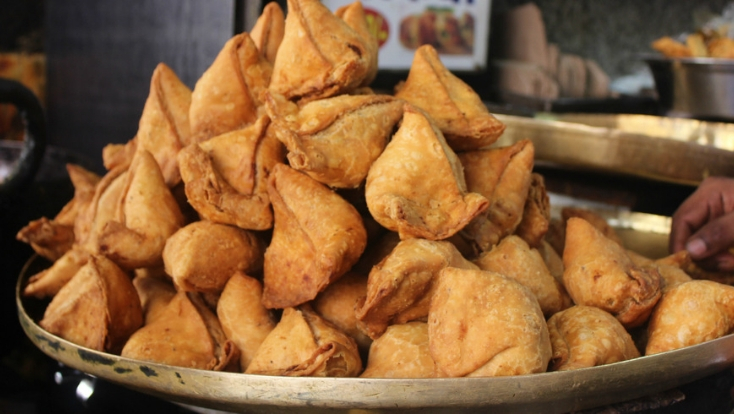 While walking through the streets of Purani Dilli, it is impossible to miss the unmistakable fragrance of the variety of delhi street food available in the area. It's no surprise that the former Mughal capital is a food hub. Cutting through the chaos of the narrow by-lanes, it is hard to resist the temptation of gorging on copious amounts of delicious sweets and savouries.
Mughal cuisine predominates the palate of the people to this day, and many dishes have been reworked to suit the tastes of modern times. Still, the culinary traditions have been maintained to a large extent, and provide an authentic idea of the food habits of Purani Dilli. So, if you are on the lookout for the best places to savour a taste of Purani Dilli street food, here are your choices:
1. Old Famous Jalebi Wala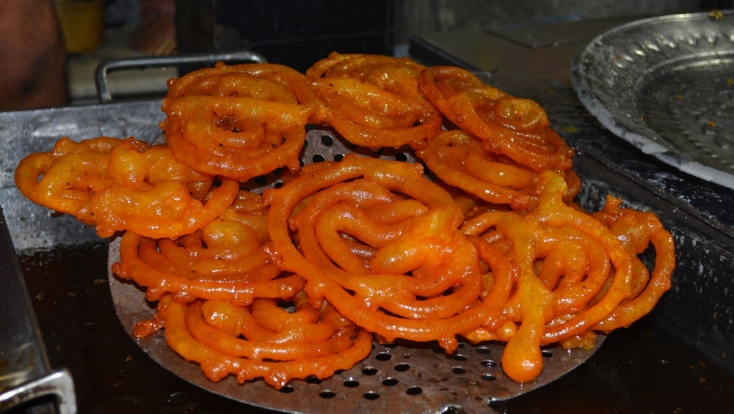 Jalebis are a trademark sweet dish of northern India, as well as an important part of Indian street food. And when in Purani Dilli, you can't do without tasting the delicious jalebis of Old Famous Jalebi Wala. If you don't know what jalebis are, they are basically swirls of batter fried in sugar syrup, soft on the inside while crunchy on the outside. The owner of this shop, in particular, was said to have experimented with a lot of recipes before landing on its trademark one. Cooked in desi ghee, these jalebis will surely take you on a new journey of pleasure.
2. Hazari Lal Jain Khurchan Wale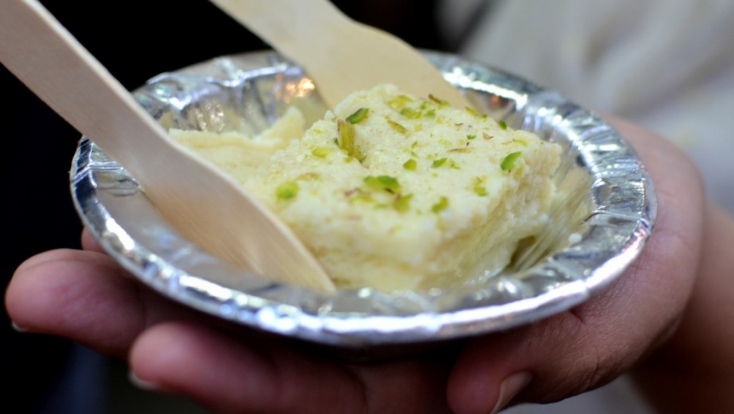 This is one of the most unique things you will taste in Dilli, and probably the most delicious. In fact, this is a famous street food in Delhi. Made entirely from milk, the recipe of this sweet dish involves boiling the milk in a kadhai, collecting the scraps that accumulate on the sides, and then serving that with pistachios and nuts. Interestingly, the word "khurchan" means scraps or leftovers. Making an entire dish out of leftovers and turning it into a delicacy- there is no end to the innovativeness of Indian cooks. Although not traditionally a part of the Indian Street food cuisine, the creativity of this dish is commendable.
3. Al Jawahar, Matia Mahal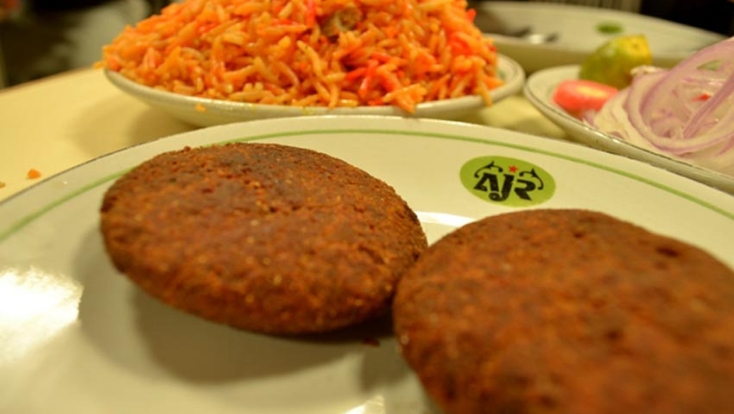 Dilli is known for its non-veg in Delhi, especially its delicious kebabs, and nowhere else in the city will you find any as delicious as Al Jawahar. Every evening, the area around Matia Mahal is consumed by the smoke rising from the grills that cook the juicy, tender pieces of meat to perfection. Al Jawahar is one of the many small shops that line the area, and it serves the best tikkas, mutton barrahs and more. What's best is that you can fill your belly with anything you want, and just when you think that you've run out of options to eat, you will discover something even more delicious. This place is a part of the ultimate street food places in Delhi.
4. Ghantewala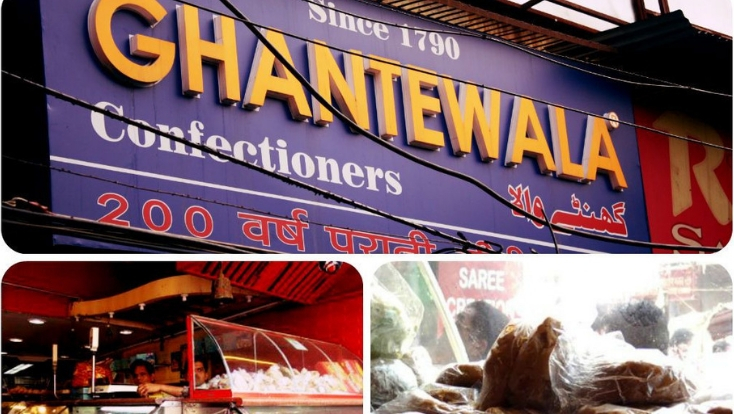 When we say Ghantewala has been around for ages, we literally mean ages. The sweet shop has been the favourite of Mughal emperors and Indian ministers. Its collection of sweets makes it an iconic place serving the most popular street food in the area. Known for its Sohan halwa and Karachi halwa, the sweet shop will send you reeling with the sheer amount of options it provides you with. The badaam barfi, pista samosa, motichoor laddoo, and kalakand are all native delicacies of the shop. The place is currently being run by its fifth generation of owners and has continued to uphold its quality to this day.
5. Shree Balaji Chat Bhandar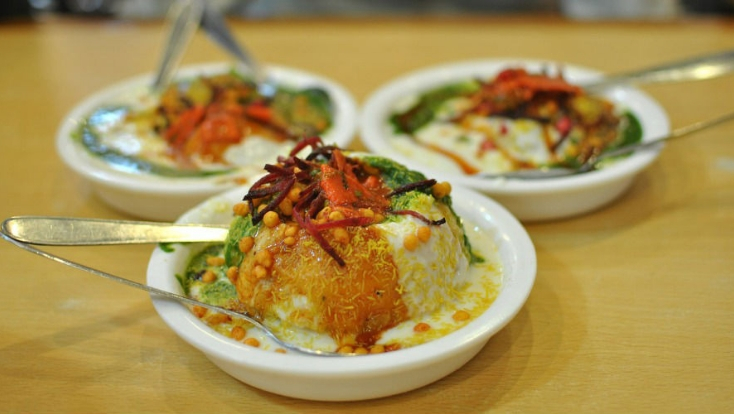 A visit to Delhi remains incomplete without a taste of its glorious chat scene. From delicious papri chats to mouth-watering aloo chats, it's a must try when you visit the city. To taste the most authentic and delicious chats of the city, visit the Shree Balaji Chat Bhandar. One of the oldest places to eat in Chandni Chowk, the place is known for its delicious takes on traditional chats. Interestingly, the shop uses kauchaloo chutney for its dishes instead of the regular tamarind variety, and this is precisely what makes them absolutely unique and at the top of their game. Fair warning: once you start gorging on their lip-smacking creations, it's extremely difficult to stop. There's a reason why this is one of the must eat places in Delhi.
6. Shiv Mishthan Bhandar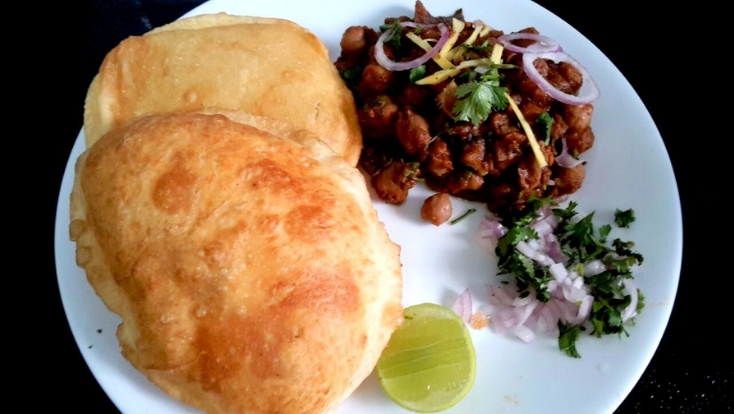 Start your exploration of the Delhi street-food scene with a classic Purani Dilli breakfast- bedmi aloo. A unique take on kachoris, these crisp puris are stuffed with a potato filling instead of the classic pea mix. To accompany the puris, take a serving of suji Ka halwa, and you have yourself a homely Purani Dilli breakfast. To wash it all down, order for a delicious glass of chilled lassi. If you believe in the adage "morning shows the day", then breakfast at Shiv Mishthan Bhandar will definitely give you a good idea of what is awaiting you next. If you want some excellent food and beverages to start your day, you need not to look any further.
7. Moti Mahal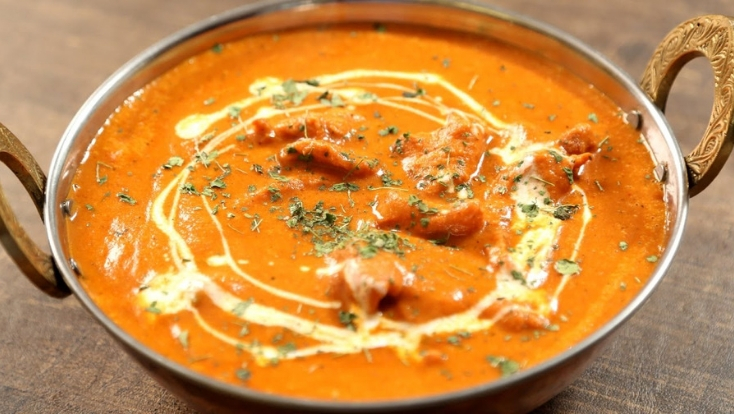 If you are any modicum of a foodie, you must have heard of butter chicken. There's no escaping the thick, juicy pieces of fried chicken dipped in a creamy, delicious sauce. Well, did you know that butter chicken was created in a kitchen at Moti Mahal? The restaurant where it was discovered was called Tandoori Chicken, and it used butter and tomato to store the chicken in marinade trays. The tandoor fried chicken pieces were tossed in this buttery sauce, that led to the creation of the creamy dish that we now know as butter chicken. You must visit this most popular street food place in Delhi.
8. Karim's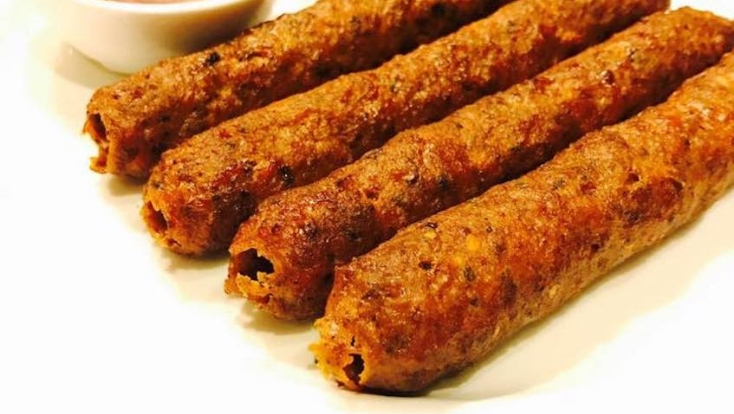 Kebabs are an intrinsic part of Purani Dilli food. Haji Karimuddin, son of a cook in the Mughal kitchen, moved to Delhi and established Karim's in the early 1900s. This small hotel is heaven for all lovers of meat and serves the best kebabs and mutton Nahari you have ever tasted. The authentic taste of Delhi best street food can be found here.