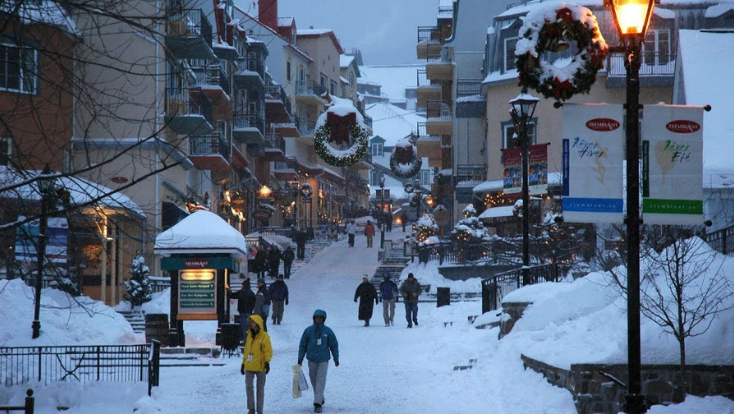 India is a treasure trove of picturesque destinations for anyone who loves to travel. From beaches to deserts, from dazzling cities to snow-clad mountains, the tourist destinations in India can give many international destinations a run for their money! These winter holidays take a trip to the snowy hill stations and usher in a fun-filled New Year with your dear ones.
Many hill stations in India receive snowfall during summers. But the winters are especially exciting as the temperature can be freezing, there will be an abundance of snow and tourists can participate in a lot of activities like skiing and snowboarding. So here we present some of the best places in India to enjoy a snowy winter vacation. Read on to know what each place offers to the tourists and also get to know some of the best travel hacks.
1. Shimla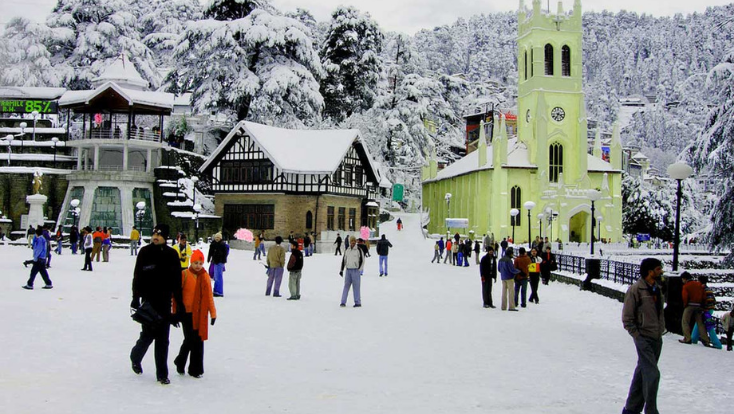 Shimla, the capital of Himachal Pradesh and one of the most visited hill stations in India can be mesmerizing during winters. It the best place to enjoy the snowfall without freezing in the sub-zero temperature. Winter in Shimla is quite cold yet not so harsh. You can take part in outdoor activities and enjoy mouth-watering delicacies including cake, pastries, sweet buns, and coffee.
If travelling during the winter holidays between Christmas and the New Year, you can visit the beautiful local churches to witness a wonderful Christmas celebration. Quaint and peaceful hills stations like Chail and Mashobra near Shimla can give you respite from the crowd whenever you need. Shimla can be easily accessed via Delhi or Chandigarh.
2. Gulmarg
Gulmarg can be the paradise on earth in winter for snow lovers. Located in the heart of Kashmir it is a popular destination for travellers around the world taking a trip to India. While the place receives year-round snowfall, winter vacations are the most preferred time to visit as it is the best time to ski and snowboard.
Enjoy the popular Gulmarg Gondola (cable car ride) to visit the world's highest golf course and end the journey at Aparwath and Kungdoor. The vast snow-covered meadows, the beautiful winding mountain road, and serene atmosphere will make your Christmas vacation worthwhile. The closest air junction to Gulmarg is in Srinagar.
3. Auli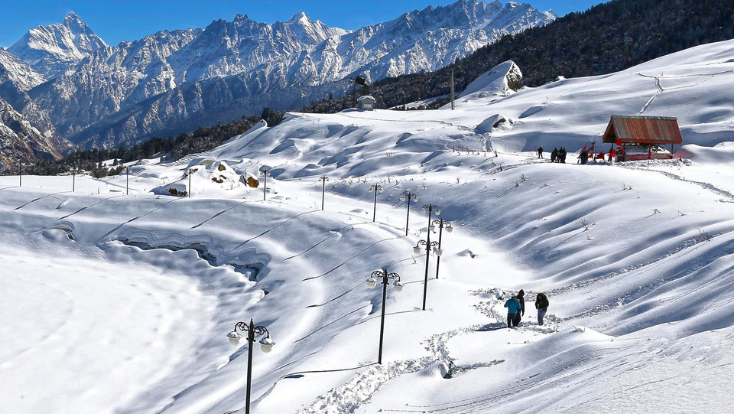 Enjoy a breathtaking view of the Himalayan ranges or experience the ethereal beauty of snow-covered, oak and deodar tree in Auli during this winter vacation. It is a beautiful little village located in the Chamoli district of Uttarakhand. It is covered by a thick layer of snow in the winters making it a favourite among travellers from India and abroad.
For adventure lovers, Auli can be an ideal place to go for trekking, skiing, and snowboarding. For others, you can check into one of the resorts and get immersed in the beauty of the Nanda Devi peak and the Mana Parvat. For religious travellers, a visit to the nearby shrine in Joshimath can be a great spiritual experience. The closest air base to Auli is in Dehradun. It is also connected via railways from Haridwar.
4. Manali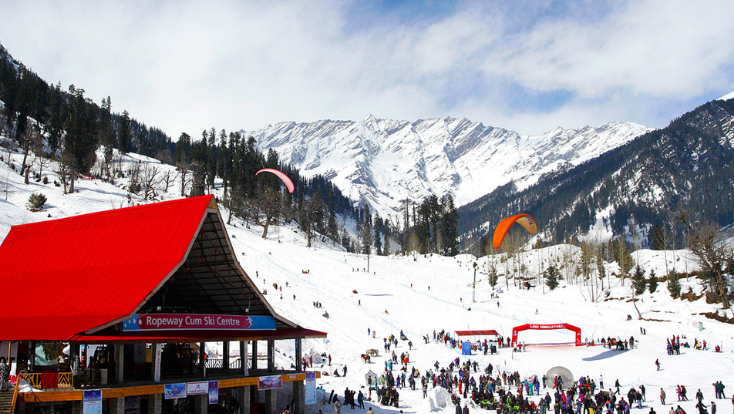 Manali is one of the popular snow-destinations in North India. Manali is no less than a paradise in winter with snow-capped peaks and clear blue skies. The heavy footfall of tourists in this serene town can make you urge for some privacy. So explore the old Manali town, visit some magnificent waterfalls and trek along winding mountain roads.
A trip to Rohtang Pass from Manali can be an interesting gift to your travel partner/s if you want to indulge in new year celebration while vacationing. You can participate in snow-themed sports to have a fun and thrilling experience in Rohtang Pass. Manali can be reached via Delhi through road.
5. Ladakh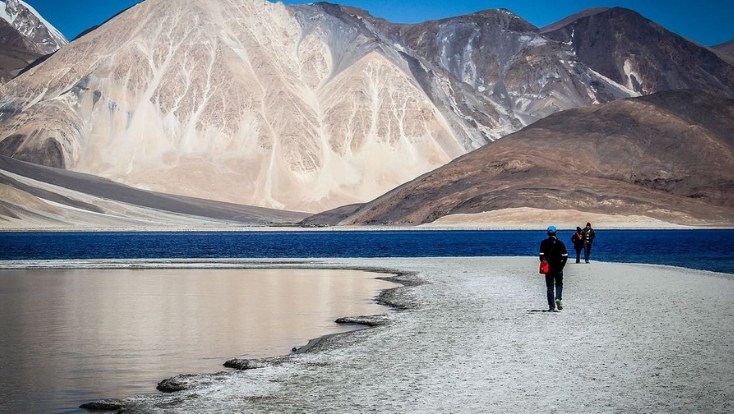 A trip to Ladakh can be a once-in-a-lifetime experience for mountain lovers. The stunning snowy landscape, frozen rivers, and waterfalls of Ladakh form a very special part of India tour. Ladakh is loved by adventure junkies travelling in bikes along the rough mountain roads amidst the bountiful blessings of nature. It may seem like an arduous journey to this winter destination but once you reach there it will make your hardships worthwhile.
The temperature can be freezing during winter, but a night in the camp below the stars in the middle of all the snowy wonders will be etched in your memory forever. It is best to travel to Ladakh by road as there is no connected railway line. The nearest airbase is in Leh.
6. Munisyari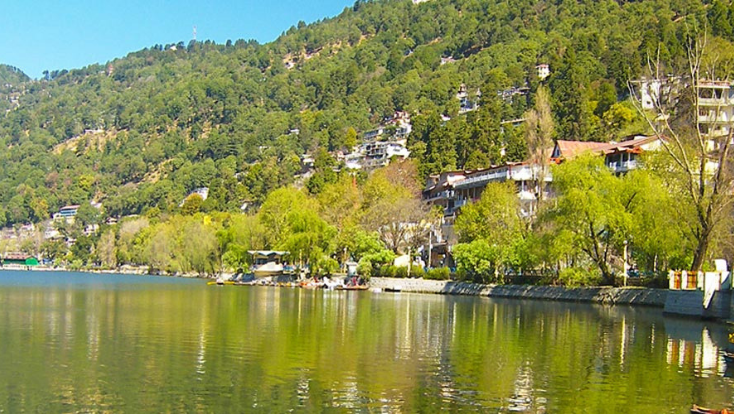 Munsiyari, the Uttarakhand village is located along the borders of Tibet and Nepal. Three glaciers Namik, Ralam, and Milam have their bases in this place. It is a newly discovered tourist destination in India where travellers can stay at beautiful hill resorts and enjoy the majestic view of the snow-capped Panchachuli range. The snowfalls during winters make the place ideal for short treks and adventure sports.
Tourists can also enjoy yak rides, trek to the Kalamuni top or Khaliya top, visit Birthi falls and get lost in the ethereal beauty of the place. Munsiyari can be accessed by road from the nearest railway station in Kathgodam or from the airport in Dehradun.
7. Khajjiar
The small and picturesque hill station of Khajjiar in Himachal Pradesh can make your snowy winter vacation dreams come true. You will be welcomed by vast snowy meadows, snow-clad mountains, frozen ponds and a glimpse of the mighty Himalayas. Khajjiar can be called India's very own Switzerland with its gorgeous view.
You can try adventure sports like paragliding and trekking. You can visit the Golden Devi temple and Khajji Nag temple to have a spiritual experience before ushering in the New Year. Khajjiar has no nearby railway station but it is well connected by roads. The nearest airport is 128 km away in Dharamsala.
Conclusion
Along with these 7 places, there are many other beautiful locations in India to enjoy snow-falls during the winter holidays. If you wish for a white Christmas celebration in this country, head to the mountains to have fun amidst the snow. So, plan your travel dates, pack the bags and get lost in the snowy wonderlands for a few days.